Pros
Good construction. Lots of storage.
Cons
No outside mobile phone access. Heavy. Big. Too many damn pockets.

Retail Price : $69.00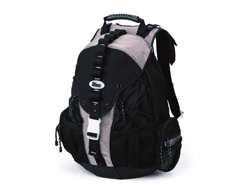 I had seen several mentions of the Targus Deluxe Sport Backpack on some Powerbook forums that I visit and was interested to get one in and review it. After a couple of calls and a couple of e-mails it arrived in the mail.

When I pulled this backpack out of the box I was amazed at the...at the...the sheer volume of pockets and compartments and compression straps and...well, you get the idea.As you can see from the ratings, organizational features got two different numbers. This was the only way I could illustrate my conundrum. The bag is an example of too many pockets. I was overcome with pockets. Hell, there were pockets inside of pockets. Hence the double score. Yes, there were lots of pockets to put stuff in (of course you may never run across that stuff again) therefore I gave it an 8.5. But...there are too many of'em so I downgraded it to a 6.

I was able to carry all of my list. And 3 pygmies. And a small goat.

The laptop compartment has a built in pocket with an elastic strap that stretches over the top of the computer and attaches to the pocket front. The laptop compartment is actually the only large compartment in the backpack. The other compartment has a full zip front and holds pens, pads, magazines, etc. The one bonus is that Targus included a mobile phone pouch that attaches to the shoulder strap. My phone didn't fit in it though and it is pretty small.

The color scheme is silver, white, and black. I really didn't like the white buckles and clips on the bag. They gave it a cheap look. Black would have been better.

The bag is an oversized backpack compared with the Spire Icon or the K2 Jiver and therefore was on the heavy side. If it were to be loaded down with an AC adaptor, extra battery, and a computer manual or two it would indeed be hard on the spine.
If you are looking for a bag with ALOT of storage and pockets and with good construction for a decent price take a look at the Targus. It may fit the bill. But if you are looking for something with a higher end look and lighter in weight then look elsewhere.
---
Review Rating
| | |
| --- | --- |
| AVERAGE SCORE | 7.3 |
| Construction | 8.0 |
| Comfort | 7.0 |
| Organizational Features | 6 (8.5) |
| Protection | 8.0 |
| Aesthetics | 7.5 |